Question:
Assalaamu alaykum wa rahmatullaah,
When I come across "ula'ika" in suwar like Al-Bayyinah & Al-Balad, is the hamzah and waw pronounced with two harakah or one? Like "ou-laaa" or "u-laaa".
Answer
Wa alakum assalaam wa rahmatullahi wa baraakatuh
This written wow is an extra wow written in but not pronounced in the Qur'an. The hamzah has a dhammah which is for one harakah and there is no lengthening of it and the wow is dropped in pronunciation. The mark over the wow which looks like

in the Qur'an writing means that the letter is not pronounced. The zero has a bit of a point to it at the top when it is

like this example.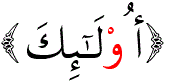 .