Question
As-salaamualaikum,
Is it recommended for those who don't understand Arabic to stop where the reciters such as sheikh xxx or xxx stop ? I also noticed that they don't always stop on the stop marks in the Qur'an. I memorize by listening to them and thus stopping at a different point can confuse me. Secondly, are we allowed to stop in the middle of the verse and continue without going back 1 or 2 words? A good example would be stopping in the middle of the verse and continuing from ...And (as in verse 8:7 - Waith yaAAidukumu Allahu ihda alttaifatayni annaha lakum STOP watawaddoona anna ghayra thati alshshawkati takoonu lakum STOP wayureedu Allahu an yuhiqqa alhaqqa bikalimatihi wayaqtaAAa dabira alkafireena)
Answer
Wa alaikum assalaam wa rahmatullahi wa barakatuh,
Those who don't understand Arabic enough to know the grammar structure or know if a subject is finished or not should rely on the stop marks in the Glorious Qur'an. Sometimes shuyookh when leading prayers are concentrating on other matters and can't always think of the proper stop places. The only mark which we should not stop at is the "la" mark.
Please see the chart below for the stop marks in the Medina Printing Complex print of the Qur'an and their meaning: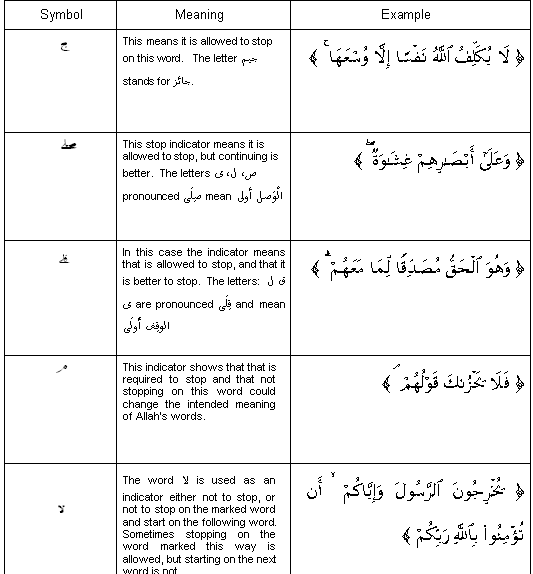 We can stop at the middle of an aayah and not go back if the grammar of the subject is not linked to the grammar of the following subject, even if the subject is continuing. This would be at a marked stop place in the Medina Complex printing of the Glorious Qur'an.
In the example in the question from surah Al-Anfaal, it is better not to stop at the indicated places and continue, instead one can stop then go back a few words when starting again, if the readers breath is not long enough to finish the whole section in one breath.
It is better to listen to the recordings after memorizing from looking at the copy of the Qur'an and being acquainted with the proper stop marks, then use the marks as your guidance and review the memorization from the recordings, but not the stops and starts.
Please see the following link for more detailed information on proper stops:
http://www.abouttajweed.com/al-waqf-the-stop-/index.php